Considering the tremendous daily stress placed on your knee, it's no wonder that knee joint pain in Jacksonville FL affects about 25% of adolescents and adults. The experienced team at Advanced Medical Centers in Jacksonville, FL, provides a thorough diagnostic evaluation followed by comprehensive chiropractic care, regenerative medicine, and physical therapy to promote healing, relieve pain, and support your rehabilitation.
What Causes Knee Joint Pain in Jacksonville FL
Acute injuries such as meniscal tears, tendon and ligament injuries, dislocations, and fractures are often the source of knee pain. Overuse injuries are also common causes of knee pain, especially if you often engage in activities that involve jumping and running.
However, if you're an older adult with chronic knee pain, the problem is usually due to conditions such as osteoarthritis, rheumatoid arthritis, bursitis, and tendonitis. Your overall risk of developing knee pain is higher than normal if you're overweight or you suffered an earlier acute injury.
How is Knee Pain Treated?
Your comprehensive care at Advanced Medical Centers begins with a thorough assessment, examination, including diagnostic imaging such as x-ray or MRI, if it's needed to verify the extent of bone or soft tissue damage.
The initial treatment for knee joint (can we remove joint here?) pain includes conservative therapies such as resting your knee, modifying your activities to reduce stress, and immobilization when torn tissues need to heal. KT taping or knee bracing may be applied to relieve pressure, support knee joint stability, and improve muscle function.
The team at Advanced Medical Centers also offers a full range of physical therapy options, as well as joint and muscle injections to reduce inflammation, relieve pain, and improve joint lubrication. Your doctor may also recommend therapies such as platelet-rich plasma (PRP) injections to accelerate healing and help repair tissues.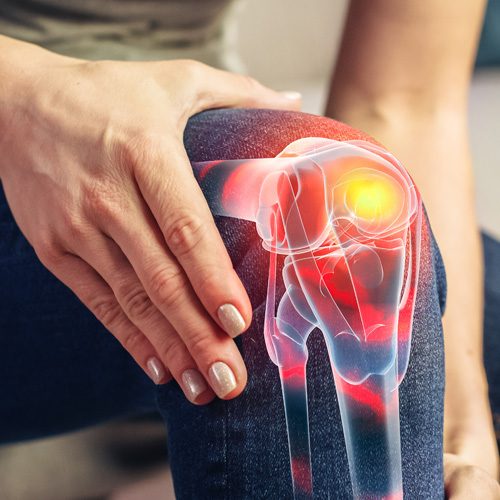 Physical Therapy Options
Myofascial release
Cold laser therapy
Ultrasound therapy
Therapeutic massage
Exercises to stretch and strengthen soft tissues
Transcutaneous electrical nerve stimulation (TENS)
Electrical muscle stimulation and interferential electrotherapy (EMS/IF)
Extracorporeal Shock Wave Therapy (ESWT)
You receive individualized care and get relief from knee joint pain at Advanced Medical Centers. Don't keep suffering. Call the office to schedule an appointment.